Looking modern fireplace ideas? Check this collection of best contemporary gas fireplace designs for inspiration – using tiles, marble, brick, glass, metal! If you like these ideas, save them for inspiration to your Modern Fireplaces board on Pinterest!
A fireplace is in some way an element of a past life, part of the memories of distant times when it was this fabulous concentration of fire that attracted both the whole family and guests like a magnet. Today, the functional significance of the fireplace is noticeably lost, but it is still considered to be a symbol of comfort and warmth of the welcoming and loving home.
Moreover, today the fireplace has become a stylish element of the interior which is able to give your living room a kind of unconditional individuality. Someone chooses traditional stucco and brickwork, someone prefers modern glass structures but still, this reverent attitude to the fireplace that designers have shown within last and current years is impossible to ignore.
Whether you have decided to integrate the fireplace into your interior or design an existing one in the most fashionable and up-to-date way we will be glad to present you the most stylish solutions recommended by designers in 2023. We are ready to pay attention to both the design features of the fireplace and the surrounding atmosphere including palette and furnishing. So, let us begin!
Modern Fireplace Mantels
Fireplace mantel or mantel, also known as chimneypiece, originated in medieval times. It played the role of a hood over a fire grate to catch unpleasant and muggy smoke. Today, this term refers to the decorative framing of the fireplace, which may include complex designs and design constructions extending to the ceiling. Thus, mantles turned into a term for slopes, the fireplace mantels, and outer elements of a fireplace body.
The fireplace mantel may be both an element that creates a harmonious design and an expressive accent. We are glad to offer you several current options.
Modern
This expressive and laconic stone laying, clean strict lines, and smooth texture create a spectacular and mysterious union with the black framing of the inner fire.
Taken from Interior Design
Farmhouse
The untreated wooden mantel looks like a guest from the past and creates an atmosphere of deliberateness and calm.
Taken from Clevelandcourage
Classic
This airy and exquisite stucco decoration helps to integrate this elegant fireplace into any luxurious interior.
Taken from MantelsDirect
Rustic
The neat brickwork with polished wooden shelf symbolizes the harmony of natural materials and clear lines.
Taken from Toboto
Mediterranean
This fireplace has all the typical Mediterranean features including a smooth surface, a bizarre geometric pattern, and the spectacular design of the hearth.
Taken from Domino
Modern Fireplace Surround Ideas
Since the times that fireplaces remain the heart of any home, there are many ways and options for its decoration. Stone is the oldest fireplace surround material that came to us almost unchanged and is still preferred and liked for its fantastic qualities. Currently, in addition to traditional natural stone or tile, a variety of innovative and modern materials are offered. Many of them are eco-friendly, durable, safe, and absolutely fine-textured.
You can choose from brick, stone, metal, tile and ceramic tile as well as from wood, plaster and other materials available and use each material individually or combine it with another or even a few of them. We offer you to have a look at those fashionable fireplace surround ideas 2023.
Concrete
The surround of large concrete-looking tiles admires with its quite laconic and a bit harsh view – just like modern minimalism admirers approve.
Taken from fielderman.com
Wood
You can arrange the wooden planks as you like. The original pattern will give the fireplace a country house charm and warmth.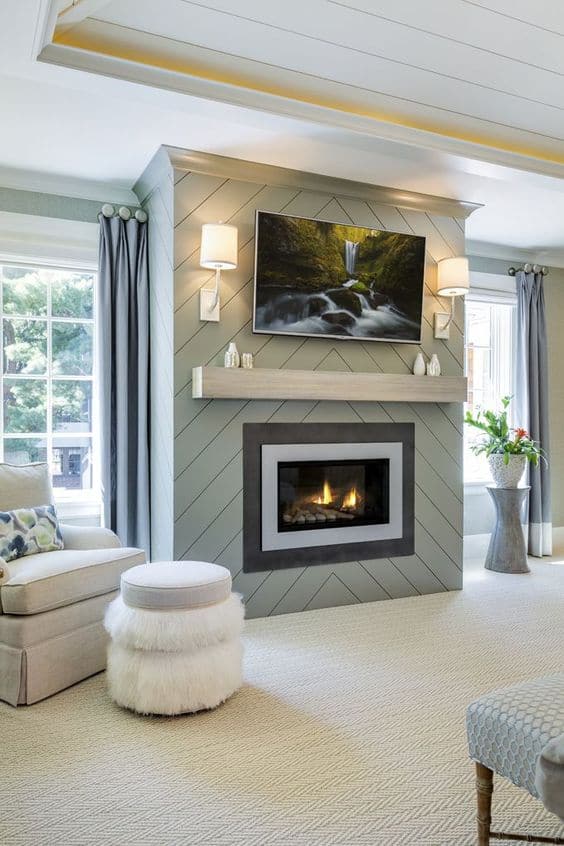 Taken from heatnglo.ru
Plaster
There is nothing superfluous in this surround – just a perfectly flat surface. Today the brevity in design is more relevant than ever!
Taken from Home Bunch
Metal
This stunning and very fashionable solution seems to be a great option for a loft or an industrial interior.
Taken from Simply Home
Glass
As you can see, an Art Deco interior and a fireplace are quite compatible concepts.
Taken from Pinterest
Modern Fireplace Tile
We can give you many reasons to use tiles for fireplace facing. Here they are:
Harmony. You create a tiled fireplace décor that is perfectly combined with the palette and design of the room as a whole. The unity of style will make you admire.
Today there a great variety of tiles of different shades, patterns, and textures on sale. Just observing the collections of materials can make you being inspired.
Tiles are non-flammable material that can withstand even very high temperatures and reduce the risk of fire.
You can also tile the wall behind the fireplace, frame, shelf, and the very opening to create a harmonious decor and create a beautiful and reliable barrier between the room and the fire.
Someone may call the variety of tiles for the fireplace really endless. If you do not want to delay the purchase and the tiling, follow a few simple tips:
Plan for the location, design and the scheme of laying tiles. Thus you will save time and purchase the exact amount of material that you need.
Choose a palette and a pattern that are in tune with the color scheme of the room. This is the easiest way to create important harmony.
Don't be afraid of unusual texture solutions. However, remember that it is better to under-salt than to over-pepper.
Properly selected tiles can create a retro atmosphere or make a modern interior even more up-to-date. We offer you some remarkable tile options, which became the designers' favorites in 2023.
Ceramic Waves
This exquisite tile relief looks very modern. Do not forget that this design requires simple and clear forms and lines of the fireplace.
Taken from Pinterest
Glass Mosaic
Glossy dark tiles give the guest from the past an ultra-modern and luxurious look.
Taken from Pinterest
Patterned Tiles
A clear geometric pattern on the tile is the hottest trend allowing you to integrate the fireplace in the current Indonesian ethnic motives.
Taken from Nhadep.net
Marble
The noble stone is equally good for both a classic living room and for modern minimalism.
Taken from HGTV
Pebbles
Tiles with pebble pattern are the most fashionable eco-decor 2023. Use it as an independent accent or create a balance with the surrounding interior.
Taken from Pinterest
Modern Fireplace Design with TV
Placing a flat-screen TV over the fireplace has become perhaps the most popular design trend of 2023. Most of the homeowners find the combination of a LED device of the latest model and a stylishly decorated fireplace interesting and stunning.
Indeed, a fireplace design with TV doesn't seem to be a difficult task anymore. The small weight of the structure, the flat shape, and the presence of reliable suspension systems allow you to fix it quickly and securely. Today, designers feel more comfortable placing the TV above the fireplace. All that you need is to integrate the device into the composition in the most harmonious way. Do you like the idea? See photos below for inspiration!
From Coziem
From Hustopia
From Hustopia
From Pinterest
From The Happy Housie
Contemporary Gas Fireplace Designs
Why are so many people in love with gas fireplaces? The reasons are quite obvious. First, they imitate wood burning fireplaces successfully. Secondly, they are much easier to install than the classic old-fashioned and wood burning ones.
The main part of the gas fireplace system is the burner which is hidden in the cast iron housing behind the heat resistant glass. The illusion of burning wood is created by wood logs or coals made of heat-resistant ceramics. Imitation of flames looks quite natural and fascinating.
The advantages of such fireplaces include:
Safety. Modern fireplaces are equipped with all the necessary options, including temperature and gas pressure controllers and leak sensors.
Flexibility. Ventless constructions may be installed in any room that you would prefer.
Ergonomics. You don't need a place to store firewood or coal.
Convenience. You don't need to clean the fireplace from the ash every time after you enjoyed the warmth and beauty of the fire.
And, of course, another important advantage of these fireplaces is a variety of models. Rate the perfect designers' favorites of 2023.
From Pinterest
From Design Jenny
From Platonic Fireplaces
From European Home
Modern Corner Fireplaces
Corner fireplaces often become the focal point of the interior as a whole. The homeowners tend to arrange chairs and sofas around to admire the flame and enjoy the welcoming warmth when they have time or desire. At the same time, the corner fireplace is a real challenge for the decorator and even for the architect.
One of the advantages of the corner design is ergonomics and compactness so you can install such a fireplace even in a small living room. At the same time, you kill two birds with one stone saving space of the room and giving the interior a nice fabulous look. If you are not yet fully imbued with the delightful idea of a corner fireplace as a designing element, we have some intriguing and gorgeous photos for you.
From CeardoinPhoto
From spenceronthego.com
From spenceronthego.com
From spenceronthego.com
Fireplace Design Ideas – Photos for Inspiration
As they say, it is better to see once than read a hundred times. Therefore, for the dessert, we leave you a few more photos of fashionable fireplaces of the stunning design for the most stylish and cozy interiors. Watch and enjoy!
From FresHOUZ
From homeideal.info
From Bloch Design
From Tecnolite
From Home Arch Design
From theshabbycreekcottage.com
From jurnaldedesigninterior.com
From craftberrybush.com
From Instagram
From A Brick Home
So, you have managed to evaluate all the benefits of a fireplace as a designing solution. Stone, glass, metal, finished with stone, electric, gas, open, and corner fireplaces – each of them is able to embody your interpretation of the hearth. We wish you even more inspiration in creating a welcoming and delightful atmosphere of your home!