There is a multitude of reasons why you could have a scrap wood collection in your home. It could be that you've had a home makeover, constructed new furniture for yourself, or something of the likes. In any case, I don't advocate tossing these wood bits out right away. You can make a lot of new things even with these scraps of wood! If you do not believe me, then I've put together a list of 15 easy DIY scrap wood projects that you can use for home décor, organization, and more!
15. How To Make A Scrap Wood Wreath
Want to learn to build a scrap wood wreath? It's so easy! Here's how.
Check it here.
14. Kitchen Renovation: An Improvised Cutting Board Holder
I saw a cutting board holder from Rev-a-Shelf online, and thought it was a brilliant idea!
Check it here.
13. Rustic House Number Sign
I've been wanted a house number sign or plaque out front for years, but I was never able to find one that was a little rustic. To make this, I used wood from an old whiskey barrel planter that fell apart last summer.
Check it here.
12. DIY Lost Socks Sign Tutorial
If you're like me, your sock drawer is full of single socks that have never found their mates. So I'm remedying that by making my own DIY Lost Socks Sign with clothespins to hang the single socks looking for their "sole mates!"
Check it here.
11. DIY X Sofa Table from Scrap Wood
I love the idea of being able to hang out in the living room AND have a small flat surface to put something like a plate!
Check it here.
10. Easy DIY Farmhouse Serving Tray Project
Homemade gifts are the very best, and this DIY Farmhouse Serving Tray project that's not only easy, it's affordable and fun to make!
Check it here.
9. Wooden Home Growth Chart
Little ones grow so fast that it seems hard to keep up with them at times. Creating a fun home Growth Chart from a bit of wood and paint will make wonderful memories to look back on through the years as your child grows.
Check it here.
8. How To Make A Rustic Fall Wreath From Reclaimed Wood
I don't usually do a lot of fall decorating, but this year I really wanted a homey and rustic wreath to hang on the front door. I love less traditional wreaths and I came up with the crazy idea of making a wreath from reclaimed wood.
Check it here.
7. How To Make An Easy Wood Banner
A couple of weeks ago I shared this fun wood banner as part of my May giveaway and I got tons of comments about how much people liked it. Since only one lucky reader got to win the giveaway, I thought it would be the perfect time to share how easy it is to make your own wood banner.
Check it here.
6. DIY Wooden Serving Tray
When I was in middle school, we had to take a quarter of technology classes every year. We used power tools and hand tools, which, now that I think about it, is super dangerous for a 9-year-old kid. But I survived with all my fingers and limbs still attached. I can't remember how to use them at all, though, so this DIY Wooden Serving Tray is all Pete.
Check it here.
5. Scrap Wood Art
If you do woodworking projects, you'll always have tons of scrap wood lying around. I try to find little things to make with my scrap wood so it doesn't go to waste. I made this scrap wood art piece for my mom and really liked how you can take scrap wood and turn it into something that looks really nice.
Check it here.
4. Scrap Wood Coasters
Wooden drink coasters are a great thing to make with scrap wood. DIY scrap wood coasters can be made in lots of different ways with lots of different results. Whether you glue up a bunch of boards and then trim them down, or you make them individually, wood coasters are always nice.
Check it here.
3.
This DIY wood wall art is easy to make with scrap plywood! This design mimics the pattern on my stenciled tile floor, bringing the whole look together!
Check it here.
2. DIY Baseball Hat Rack – Display Your Hat At Home
If you're like me, you're really into baseball and love everything about it, from playing catch to displaying your memorabilia. Today I'm making a cool hat rack made with real baseballs!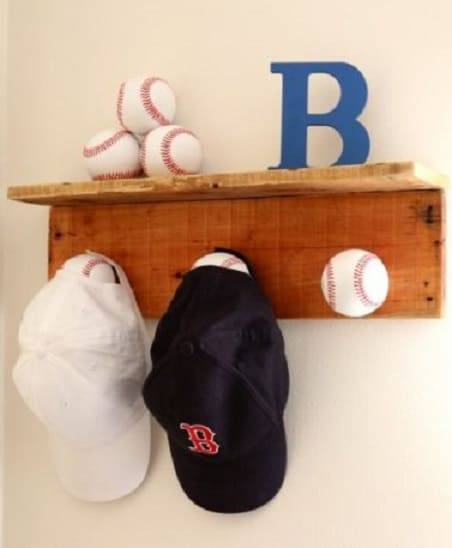 Check it here.
1. DIY Towel Rack with Wood Pallets
We'll show you how to make this charming farmhouse styled DIY towel rack using some leftover wood pallets for your next project.
Check it here.